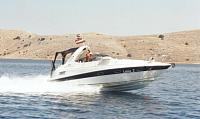 Configuration list
Motorizing 2 x 205 HP Volvo V6
electrical windlass with 45 m chain, trim tabs
3x Warm-und chilled water
Tail shower
Pump. WC
220 V land link for electrical/white spirit stove, Ladestation(27Amp), storage water heater, plug socket and refrigerator
12 volt three-fold battery V with selector switch
Stereoanlage with CD
Echolot, compass
Bath conductor
Sport sportverdeck
Radio
Maritime configuration
6 fender, 4 Festmacherleinen, 2x25 m land line, 2 Enterhaken, 26 sea charts (2 card records north/south), port manual, kursdreieck, distress signal, 1 flashlight, 6 life jackets, 20 m water hose, stromkabel for land link, tool kit and engine spare parts, 1 reserve anchor, fire extinguisher, first aid box.
Kombuese / configuration
Food service 6-teilig, 6 coffee cups, 6 drinking cups, 6 Jausenbretter, 1 kitchen board, cutlery for 6 persons, Jausenmesser, egg cup, 1 bread/brot/Fleischmesser, cook implements (cook spoons...), 1 kettle, 1 bratpfanne, 1 noodle filter, 2 pots, 1 thermal can, 1 Kaffeefilter(1x4), muck excavator bucket, bottle opener, brotkorb, ashtray, can-opener, white spirits for stove on board.
Other accessories:
2.3 m long ship's boat with fixed soil, air Kiel, rudder, 3.5 HP OFF Yamaha Malta, 5 l reserve can for OFF.