General Information


Croatia is ideal for sailing: it has an indented coastline, many islands, a good climate and 40 marinas with excellent facilities and service. About half of the marinas belong to the ACI Club (Adriatic Croatia International Club) and the others are independent. Of the twenty-one ACI marinas seventeen are open throughout the year and four during the summer season only.
All Croatian marinas are members of an association whose head office is in Rijeka.
Croatian Marinas Association (Hrvatska udruga marina)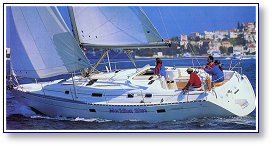 Bulevar oslobođenja 23
HR-51000 Rijeka
Tel.: (051) 209 147, 209 146 / Fax: (051) 216 033

The head office of the ACI Club is in Opatija.

ACI Club
M. Tita 221
HR - 51410 Opatija
Tel.: (051) 271 288, 272 570 / Fax: (051) 271 824, 712 824


Details about marinas (their options, prices, addresses) could be find using our advance search facility on Marinas Page. On this page you can also find a lot of information about mooring fees, buying food, fuel stations, spare parts, water and electricity in harbours and marinas.

If you need information about legal regulations: access, navigation and stay, authorization issue, navigation security compensation, paying demurrage, currency regulation, yahtmaster's certificate, wintering of yachts in Croatia zones in which navigation is prohibited, boat equipment, radio telephones, participation in sporting events, transport of boats, boat rental & charter companies, change of crew, visit Nautical Regulations Page.


The Croatian Coast


Geography
From Rt Savudrija (Istria) to Rt Ostri (on the western side of the entrance to the Bay of Kotor), the Croatian Adriatic coast extends for 528 km as the crow files. The total length of the coastline is about 5,800 km.

Climate
Due to its north-southward thrust and its geological structure, there are considerable climatic differences between the northern and the southern parts of the Adriatic coast. The prevailing northerly, the bora, can also produce big differences in temperature. Sea temperatures generally range between 12o C in February and 25o C in August. Although frost is rare in this part of the world, short periods of cold weather with snowfall are not uncommon in the northern part of the coast.

The best season for sailing is early summer: there are good winds in May and June. In July are August, when periods of calm prevail, conditions are ideal for those motor boat fans who prefer calm waters. In the autumn and winter, seas can be rough with prolonged periods of the bora and the scirocco (see also section Weather).

Weather


Weather conditions in the Adriatic are affected by the general weather situation in the Mediterranean and local climate conditions.

Generally speaking, light to moderate winds with few storms prevail until June. In July and August, a period of calm sets in and storms are more frequent. From September on winds are again stronger.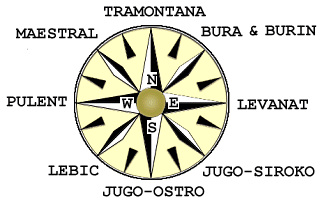 The bura (bora) and the jugo-siroco (jugo-scirocco) are the main winds on the Adriatic. They prevail in the winter period from September to May. The prevailing wind in the summer is the maestral.

The bora is a cold and dry north-easterly wind. It blows from the continent, i.e. from the eastern side of the Adriatic towards the open sea and brings bright weather. It starts abruptly and blows in squalls toward the sea. It is strongest in the Velebit Channel and the Gulf of Trieste. Picture shows typical "bura" corridors: (1) Golf of Trieste, (2) Kvarner, (3) Velebit Channel, (4) Sibenik, (5) Split - Makarska, (6) Peljesac and (7) Dubrovnik. In the summer the bora blows as a local wind and then lasts only a few days. In the winter it may continue for six to fourteen days.

The jugo is a warm, humid east-southeast wind. It is accompanied by heavy clouds and rain. It is not a sudden wind like the bora but takes 36-38 hours to develop. It blows throughout the Adriatic. In the summer it may appear as a local wind and is more frequent in the southern part of the Adriatic. Between March and June it blows in the north as well.

A sudden change from the jugo to a violent bura is not unknown. The possibility must not be forgotten when the anchorage is open to the northeast.


The maestral is a local wind which blows from the sea, mostly in the summer. It usually starts between 10 and 11 in the morning and reaches its greatest strength between 2 and 3 in the afternoon to die down at sunset. It brings good weather. It is usually accompanied by white clouds.

Other winds

The burin, a north-easterly, blows in the summer from the mainland.

The tramontana is a type of bora; it is a northerly.

Another type of bora is the easterly levante.
Pulenat blows from west and lebic from south-west.

The nevera, a violent westerly, comes as a storm or squall. In the summer months, storms in the Adriatic are sudden and violent and produce a short-lasting swell. The Adriatic storms have an advantage:they do not last long and some of them leave behind pleasantly cool air.

During periods of high pressure, the Adriatic also has the classical rhythm of winds: winds from the land during the night and from the sea during the day.
Weather reports

The coastal radio stations broadcast weather reports in Croatian and English several times a day. The reports include a general weather situation report, messages and the forecast for the following 24 hours.

Weather reports are broadcast at the following times (in UTC; UTC + 1 h = CET; CET + 1 h = CE summer time):

Rijeka Radio VHF Channel 24 - 05.35 14.35 19.35
Split Radio VHF Channels 21, 23, 07, 28 - 05.45 12.45 19.45
Dubrovnik Radio VHF Channels 04, 07 - 06.25 13.20 21.20

There are three coastal radio stations on the Croatian coast, which opeate the radio communications service (telephone calls) and broadcast weather reports and warning announcements.

The coastal radio stations operate from 0 to 24 hours on the following VHF channels:

Rijeka Radio (9AR) channels 16, 24, 20 4
Split Radio (9AS) channels 16, 21, 23, 07, 70, 81 ,
Dubrovnik Radio (9AD) channels 16, 07, 24.

NAVTEX - Split Radio (9AS) B1 Ident.= Q , Freq.=518 kHz, Range=85 Nm, Time (UTC) 02.40 06.40 10.40 14.40 18.40 22.40 , Language=English

Each coastal radio station has transmitting and receiving stations on serval locations. If contact is not established on one of the channels, other channels should be tried.

Harbourmaster's offices can usually be contacted on VHF Channel 10, marinas on Channel 17.

Nautical warning messages with information on obstacles to navigation, lighthouse failures, prohibited areas, etc., are broadcast by coastal radio stations after the weather report.
A number of official publications and pilot books on the Croatian Adriatic coast are available. They include among others:

Official books Mediterranean Pilot Vol. III Edition 1988 with Suppl. 3/1995
Yachtfunkdienst Mittelmeer edited by Bundesamt fur Seeschiffahrt und Hydrographie (in German)
Admirality List of Lights, Vol. E: Mediterranean Sea, Black Sea and Red Sea Edition 1996.
Croatian, English German and Italian charts are aviable for the Adriatic. In our experience, charts published by the country of origin are usually the most reliable. Croatian charts are available in Croatian marinas and harbours:
NORTH SHIELDS
John Liley & Gillie Ltd
Clive Street, North Shields, Tyne & Wear NE29 6LF
T.+44(0) 191 258 3519 FX.+44(0) 191 257 1521 TX, 53600 GILLE G
ST IVES(CAMBS)
Imray Laurie Norie & Wilson Ltd
Wych House, The Broadway, St Ives, Cambs PE 17 4BT,
T.+44(0) 1480 462114 FX.+44(0) 1480 496 109 TX. 329195 IMRAYS G
ABERDEEN
Thomas Gunn Navigation Services 62 Marischal Street, Aberdeen AB1 2AL
T.+44(0) 1224 595045 FX.+44(0) 1224584402
HULL
B Cooke & Son Ltd Kingston Observatory,58-59Market Place, Hull, Humberside HU1 1RH
T.+44(0) 1482 223454 FK.+44(0) 1482 219793 TX. 597636 COOKES G
LIVERPOOL
Dubois Philips & McCallum Ltd Oriel Chambers, Covent Garden, Liverpol L2 BUD
T.+44(0) 151 236 2776 FX.+44(0) 151 236 4577 TX. 627424 DUBOIS G
LONDON
Kelvin Hughes Charts & Maritime Supplies New North Road, Hainault, Essex IG6 2UR
T.+44(0) 181 500 6166 FK.+44(0) 181 559 8535 TX. 884934
NETHERLANDS
Datema - Delfzijl BV
Oude Schans 11, 9934 CM DELFZIJL
T.+31(0) 5960 13810 FK.+31(0) 5960 15245 TX. 53255 DATE NL
Kelvin Hughes Observator BV
Nieuwe Langeweg 41, 3194 DC Hoogvliet P.O. Box 613, 3190 AN HOOGVLIEUT ROTTERDAM
T.+31(0) 10416 7622 FX.+31 (0) 10416 7218 TX. 26545 OBMAR NL
NORWAY
A/S Navicharts Masteveien 3.
P.O. Box 31, N-1483 SKYTTA
T.+47 67 06 1150 FX. +47 67 06 0015 TX. 77739 CHART N
Nautisk Forlag AS
Drammensvn 130, Skoyen, 0212, OSLO 2
T.+47 22 55 84 80 FX. +47 22 56 23 85 TX. 76164 NHST N
SWEDEN
Nautic Centre AB
Skeppsbroplasten 1, S411 18 GOTEBORG
T.+46(0) 31 112421 FX. +46 (0) 31 115357 TX. 21785
NAUTIC S Nautiska A/B
Slussplan 5, Box 15410, S-104 65 STOCKHOLM
T.+46(0) 87 366005 FX+46(0) 87 366001
BELGIUM
Bogert navlec NV
37 Oude Leenwenrui, ANTWERPEN, B2000
T.+32(0) 32 328532 FX.+32(0) 32 27295 TX. 33 962 BOGERD B
DENMARK
Iver Weilbach & Co A/S
Toldbodgade 35, KOBENHAVN DK 1253
T.+45 33 13 5927 FK.+45 33 93 5927 TX. 19709 ICWCO DK

Croatian coastal charts and yachtsman's charts are always available at:
BADE & HORNIG GmbH,
Herrengraben 31, D-20459 Hamburg
Phone+49(0) 403 74 81 10 Fax +49(0) 403 66 40 0.

List of British Charts for the Adriatic Sea
Nr.
Titel
Scale 1:

1440

186

187

188

196

200

201


202

204

220

269





515

1426





1471

1574

1580

1996




2711


2712

2719



2773




2774

Adriatic Sea

Bar and Brindisi to Vieste

Punta Silo to Brindisi

Entrance to the Adriatic Sea incl. Nisos Kerkyra

Bar to Split including Otok Palagruža

Otok Lastovo to Split and Vieste to Civitanova

Rt. Kameniak to Novigrad,
Novigrad Porec

Kvarner, Kvarnerić and Velebitski Kanal

Sedmovraće to Trieste and Visite to Civitanova

Otok Vis to Otok Susak and S.Benedetto del Tronto to Ravenna

Ploče and Split with adjacent harbours
Luka Ploče, Split
Splitska Vrata
Zaljev Vela Luka
Pakleni Kanal, Starigradski Zaljev, Zaljev Klek Neum

Zadar to luka Mali Lošinj

Luka Mali Lošinj and ports and harbours on the coast of Istra
Izola, Koper
Rovinj
Luka Mali Lošinj
Luka Pula, Zaliv Raša

Golfe de Trieste

Otok Glavat to Ploče and Makarska

Otočić Veliko Skolj to Otočić Glavat

Ports in Rijeka Zaliv
Rijeka: Luka Martinšćica
Barakarski Zalev
Omišalj including Uvala Sapan

Rogoznica to Zadar
Zadar

Otok Susac to Split

Rt. Marlera to Senj including approaches to Rijeka
Senj
Luka Cres

Šibenik, Pašmanski Kanal, Luka, Telaščica, Sedmovraće, Rijeka Krka
Šibenik, approaches Pašmanski Kanal and southern approaches;
Sedmovraće Luka Telašćica
Rijeka Krka

Otok Vis to Šibenik

1.100.000

300.000

300.000

300.000

300.000

300.000

100.000
10.000

100.000

300.000

300.000


15.000
20.000
30.000
35.000

100.000


10.000
20.000
25.000
30.000

100.000

100.000

100.000


10.000
12.500
15.000

100.000
20.000

100.000

100.000
5.000
12.500


30.000
40.000
50.000

100.000
Croatian Seacharts

Croatian seacharts are published by
HRVATSKI HIDROGRAFSKI INSTITUT
Zrinjsko Frankopanska 161, HR-21000 SPLIT, Croatia
T.+385 (0)21 361 840 FX.+385(0) 21 347 242

They are aviable from
PLOVPUT
Obala Lazareta 1, HR-21000 SPLIT, Croatia
T.+385 (0)21 355 900 FX.+385(0) 21 585 782


Prisavlje 14, HR-10000 ZAGREB, Croatia
T./Fax. +385(0) 1 6196 480, 6196 481




The best season for sailing in Adriatic is early summer: there are good winds in May and June. In July are August, when periods of calm prevail, conditions are ideal for those motor boat fans who prefer calm waters. In the autumn and winter, seas can be rough with prolonged periods of the bora and the scirocco, the real paradise for those who like "real sailing".

Nr.
Titel
Scale 1:
100 - 15

100 - 16


100 - 17

100 - 18

100 - 19



100 - 20

100 - 21


100 -22

100 - 25

100 - 26


100 - 27




100 - 28


100 - 29



100 - 30
Grado - Rovinj

Pula - Kvarner
Pula

Lošinj - Molat

Rijeka - Kvarnerić

Silba - Pag
Pag
Zadar

Dugi otok - Zadar

Šibenik - Split
Splitska vrata

Jabuka - Vis

Hvar - Lastovo

Brac - Hvar
Makarska

Peljecac -Mljet
Luka Polače
Luka Slano
Prolaz Harpoti

Dubrovnik - Budva
Cavtat

Budva - Ulcinj
Petrovac
Ulcinj

Ulcinj - Durres
100.000

100.000
30.000

100.000

100.000

100.000
5.000
15.000

100.000

100.000
15.000

100.000

100.000

100.000
10.000

100.000
20.000
15.000
20.000

100.000
15.000

100.000
25.000
10.000

100.000
Coastal radio stations (Rijeka Radio, Split Radio and Dubrovnik Radio) receive messages round the clock (from 0 to 24 hours) on VHF-channel 16 and on the following channels:

Rijeka Radio 21, 40, 4
Split Radio 21, 23, 07, 28
Dubrovnik Radio 07, 04

Harbourmaster's offices and marinas can usually be contacted on VHF- channel 17, at least during th day. Most Harbourmaster's offices have their own patrol boats, with which they can help boats in distress even in bad weather. In keeping with international custom and practice, harbourmaster's have the right to engage the help of every suitable ship, including foreign yachts.

Note: No official agency is tuned in to CB-channels. Distress calls have therefor little chance or being received by rescue services.