<![if !vml]>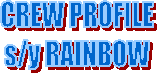 <![endif]><![if !supportEmptyParas]> <![endif]>
<![if !supportEmptyParas]> <![endif]>
<![if !supportEmptyParas]> <![endif]>
<![if !supportEmptyParas]> <![endif]>
<![if !supportEmptyParas]> <![endif]>
CAPTAIN:                 Nikos Stasoulakos, 48 years old, Greek Nationality, Nikos graduated from the Mechanical Engineer Polytechnic of Greece. He is married with one child. He has attended a number of sailing seminars and holds certificates in life –saving, fire prevention and fighting as well as radiotelephone communications. He has worked for more than twelve years on sea going ships. For the last ten years he has been sailing as a professional skipper on big sailing yachts. He speaks fluent English and some German. He is an easygoing person and his hobbies are sailing, fishing, wind surfing and water skiing. What he particularly enjoys is teaching his guests how to sail and guide them to the sight seeing of the various Greek islands.
<![if !supportEmptyParas]> <![endif]>
COOK/SAILOR:       Panayiotos Priftis, 36 years old, Greek Nationality. Panagiotis graduated from the technical high school and then he attended the Academy of Mediterranean Cuisine. He has worked more than 10 years in gourmet restaurants as an executive chef. He cultivates grapes for wine and he knows very well the art of making good wine. At the same time, he has participated in a lot of sailing races. His love for the sea started at the age of 8, when he began sailing by optimism and leisure. Ten years ago, he thought of combining sailing with his gourmet tastes in sailing yachts. He has traveled around the Mediterranean Sea and of course to all big and small Greek islands. He speaks English fluently and his interests are sailing and fishing but his spirit is given to Tai Tsi Souan.
<![if !supportEmptyParas]> <![endif]>
<![if !supportEmptyParas]> <![endif]>
<![if !supportEmptyParas]> <![endif]>