<![if !supportEmptyParas]> <![endif]>
<![if !supportEmptyParas]> <![endif]>
<![if !supportEmptyParas]> <![endif]>
<![if !supportEmptyParas]> <![endif]>
<![if !vml]>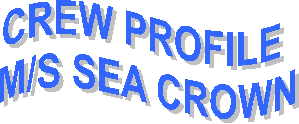 <![endif]><![if !supportEmptyParas]> <![endif]>
<![if !supportEmptyParas]> <![endif]>
<![if !supportEmptyParas]> <![endif]>
<![if !supportEmptyParas]> <![endif]>
Captain: John Viliotis is 48 years old, married with two children. He has been successfully served the Greek Merchant Marine up to 1986. He has graduated from the Greek Merchant Marine Academy of Piraeus and he is qualified as First Aid Assistant. For the last sixteen years he has been working on cruising ships and several private luxury yachts. He is fluent in English and some Spanish.
He has a very pleasant personality with excellent references from his previous occupations. He is a very pleasant personality and he is recently engaged with SEA CROWN, and he is looking forward to do his utmost in this new challenge.
<![if !supportEmptyParas]> <![endif]>
Engineer: Babis Tahritziris aged 51, married with two daughters. He graduated from the Greek merchant Marine Academy of Piraeus and holds first class diploma. He has a ten years experience on yachts. He is a very nice person with a great sense of humour. He speaks English very well.
<![if !supportEmptyParas]> <![endif]>
Chef: Thanasis Mitropoulos is 52 years old and married with 2 children. He has a long experience in cooking and he has been working in cruising ships for more than 20 years. The cuisine he specializes are: Greek, French, Italian, American, Japanese. The only thing you will have to do is to order your meal. He has excellent personality and always eager to satisfy your desires.
<![if !supportEmptyParas]> <![endif]>
Chief Steward: Paul Tsakos 33 years old, single. He is a professional steward with 5 years experience in cruising ships. He is fluent in English and very attentive with the people around him. He is always striving for excellence to the smallest detail. He is working for Sea Crown for more than 3 years. He is graduated from Tourist Academy in Rhodes.
<![if !supportEmptyParas]> <![endif]>
Bar Tender: Will be engaged shortly.
<![if !supportEmptyParas]> <![endif]>
Assistand
Steward: Pepy Desipri aged 41 and speaks English she's been working on SEA CROWN for 1 year as assistant to the cook and to the steward.
<![if !supportEmptyParas]> <![endif]>
Deckhand: Stavros Papadopoulos aged 30, single. Crafty and capable of dealing with any problem that may arise and solving it as it would never had happened. He has a wide Experience since he has been working as deck hand from his early youth in several yachts dealing with lots of guests.
<![if !supportEmptyParas]> <![endif]>