<![if !supportEmptyParas]> <![endif]>
<![if !supportEmptyParas]> <![endif]>
<![if !supportEmptyParas]> <![endif]>
<![if !supportEmptyParas]> <![endif]>
<![if !vml]>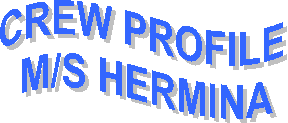 <![endif]><![if !supportEmptyParas]> <![endif]>
<![if !supportEmptyParas]> <![endif]>
<![if !supportEmptyParas]> <![endif]>
<![if !supportEmptyParas]> <![endif]>
<![if !supportEmptyParas]> <![endif]>
Captain: Takis Galanakis, Greek. 60 years old, married with one son. Takis is one of the most experienced captains in the Greek Yachting Industry. After 31 years of entertaining guests, he is not only a very knowledgeable captain but also a great host.
His knowledge is not only limited to commanding vessels. He has in depth engineering skills and ship building knowledge that he has put into his latest creation, the motor-sailer HERMINA, which rightly boasts to be the best Greek traditional charter vessel (caique) in the fleet today. Another example of his artistry is the well-known ex-Hermina, the charter yacht NEARCHOS of today, that ran for 15 years.
Captain Takis holds a class A Master's Diploma and Certificates in Salvage at Sea; fire Fighting, offshore Sailing and Speedboating. He speaks English and enjoys diving, swimming, fishing and water skiing.
<![if !supportEmptyParas]> <![endif]>
Assistant Captain: Spyros Galanakis, The son of Takis, 23 year old, Greek, single. Spyros has been very fortunate to have an excellent teacher in his young career in the charter world: his father. He has sailed with his father since the age of 12 and today holds a class B" Master's Diploma and certificates in Salvage at Sea, Fire fighting and radio communications. He speaks English and French and like his father enjoys all water activities. Spyros is fully capable of commanding HERMINA on his own.
<![if !supportEmptyParas]> <![endif]>
Chef: Stefanos Chatzisotiriou, 60 year old, with an impressive 30 year experience as chef on professional yachts, has established a well-known reputation within the business as the creator of unforgettable specialties which we hope you will have the opportunity to savour. Stefanos has been with us for the 4 years, ever since, we do not dare to imagine HERMINA without him.
<![if !supportEmptyParas]> <![endif]>
Stewardess: To be appointed.
<![if !supportEmptyParas]> <![endif]>