<![if !supportEmptyParas]> <![endif]>
<![if !vml]>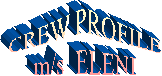 <![endif]><![if !supportEmptyParas]> <![endif]>
<![if !supportEmptyParas]> <![endif]>
<![if !supportEmptyParas]> <![endif]>
<![if !supportEmptyParas]> <![endif]>
<![if !supportEmptyParas]> <![endif]>
<![if !supportEmptyParas]> <![endif]>
Captain: Elias Koutelias. He is a Naval Cadet Academy graduate and has completed all seminars of the Naval Academy of Merchant Marines. He also holds a Certificate in the restricted operation of GMDSS. Captain Elias has been Captain on several sailing and motor yachts since 1982. He has excellent knowledge of the Greek waters, Turkish waters, the Italian archipelago and the French Riviera. Captain Elias is a true professional and you can depend on his experience. He speaks English and German. His hobbies are scuba diving, surfing, game fishing and history. Captain Elias is married with two children.
<![if !supportEmptyParas]> <![endif]>
CHEF : Ioannis (Yannis) Paxinos. You call him John Pax. John is one of the finest chefs in Greece. He has been Chef in Five Star Hotels and Restaurants and onboard luxury charter yachts. John is a very friendly person and always willing to please his guests. His culinary creations are unique. He speaks English. John is married with two children.
<![if !supportEmptyParas]> <![endif]>
Chief Steward: George Poulidis. George spent most of his career as Chief Steward on Olympic Airlines during the glamorous Onassis Year. Afterwards he worked as a Chief Steward on board several luxury yachts. George is very pleasant, accommodating and has a way with people. He was born in Alexandria, Egypt and speaks Greek, English, Arabic and French. George is married with one child.
<![if !supportEmptyParas]> <![endif]>
Stewardess : Irina Aroniets. Irine holds a Degree in Literature. She was a teacher for 8 years and a journalist for 3. For the past 3 years she has worked in Greece onboard private and charter yachts. Irene is a delightful person. She is Ukrainian. She speaks Greek, English, Ukrainian, Russian, Polish and Romanian.
Sailor : Vassilis Markatis. Vassilis has worked onboard charter yachts for the last 5 years. He enjoys his work, and is excellent at it. Vasilis speaks English. His hobbies are music, basketball and water skiing.
<![if !supportEmptyParas]> <![endif]>