<![if !supportEmptyParas]> <![endif]>
<![if !supportEmptyParas]> <![endif]>
<![if !supportEmptyParas]> <![endif]>
<![if !supportEmptyParas]> <![endif]>
<![if !vml]>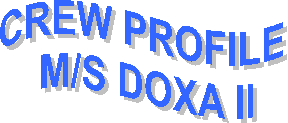 <![endif]><![if !supportEmptyParas]> <![endif]>
<![if !supportEmptyParas]> <![endif]>
<![if !supportEmptyParas]> <![endif]>
<![if !supportEmptyParas]> <![endif]>
Captain: Tony Sivris. Captain Tony was born on the island of Simi in 1948. He is a certified captain and since 1962 he worked on cargo ships for 3 years, and has a 25 year experience as captain on charter yachts. For the past 17 years he is on board DOXA II. He is fluent in English and Italian. He enjoys reading and taking care of the yacht.
<![if !supportEmptyParas]> <![endif]>
Deckhand: George Sivris. George is captain's son. He is 25, single. George has been on his father side upon the boat ever since he was a baby. Over these years he has gained valuable knowledge cruising the Greek islands. He is fluent in English and he enjoys jet skiing and water skiing. He also enjoys reading and visiting ancient sites and museums.
<![if !supportEmptyParas]> <![endif]>
Chef: Eleni Sivris. Eleni is 41 years old, she is the wife of the captain and for the last 17 years she has been working on board DOXA II. She has great knowledge of Greek cuisine and she speaks conversational English. She enjoys fishing and preparing snacks all the time to please her guests.
<![if !supportEmptyParas]> <![endif]>
Steward: Dimitris Damos. Dimitris is 23 years old, engaged. He has an extensive knowledge on fishing boats as he has worked there for many years. For the past two years he has worked for charter yachts. He is a polite personality and speaks conversational English.
<![if !supportEmptyParas]> <![endif]>